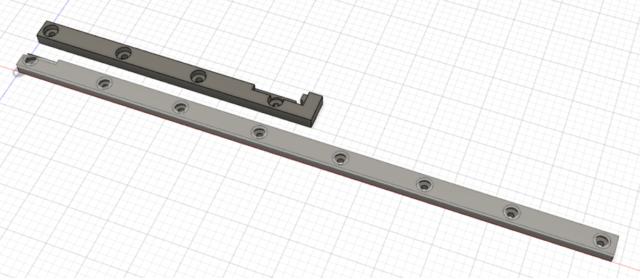 Like many, I'm using the wasteboard, fence and cam clamps that Ben Myers designed for the Shapeoko CNC router. They are excellent and I've learned a lot from his many CNC tutorials, so I've purchased them all from his Etsy store. Unfortunately, the XL size fence file seems to contain a mistake.
I couldn't wait for a fix from Ben, and I can't stand Carbide Create's drawing and editing tools, so I recreated the fence in Fusion 360 and fixed the problem. I'm making my F360 file available for download in case you can use it. The material thickness is 15mm (~1/2-inch MDF) but you can easily change it by going to Modify -> Change Parameters. You can also easily change the length of the fences there, if you have a standard or XXL size Shapeoko.
Download: Myers Modified Shapeoko XL Fence
The fence is supposed to have a little pocket in the corner for Carbide 3D's BitZero Touch Probe, but Ben's XL-size Carbide Create file just cuts some slots. I also wanted to make it with 1/2-inch thick MDF instead of 3/4-inch for a couple of reasons. First, the shorter fence allows me to lower the dust shoe more when I cut thinner materials. Second, it lets me find corners with the BitZero anywhere along the fence when I cut 3/4-inch thick material, instead of just in the corner pocket.
I've also made the pockets for the screws near the touch probe pocket just a little deeper than the others. All of the pocket depths are a percentage of the material thickness, so they should adjust automatically for 3/4-inch material. You'll need to cut the fence from a piece of stock that is at least 4.5 x 31 inches.
My CAM/Manufacturing setup is also there. Keep in mind that I'm still learning F360 CAM and getting familiar with my Shapeoko. So don't trust my work too much. I'd appreciate it if you'd leave a comment if you discover any problems or you can teach me something.
I used a Whiteside RU2100 1/4-inch 2-flute up cut flat end mill. Router speed is 18k RPM. Roughing speed is 100 IPM, finish cuts are 30 IPM. Max stepover and stepdown is .125-inch (which might be too much but I got good results).