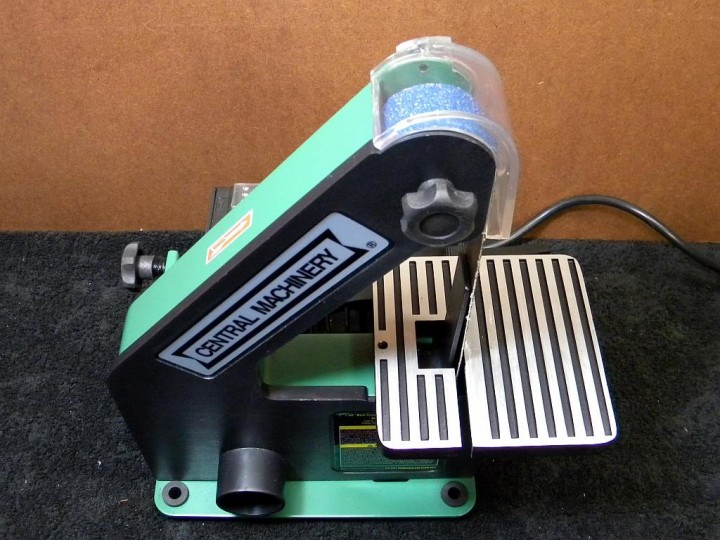 This is a review of the Harbor Freight 1×30 belt sander, model #2485.  I noticed it was on sale and remembered Mikey telling me that a belt sander is a better tool for grinding lathe bits than a bench grinder.  So I checked the customer reviews for it on their web site and they were generally very good.  Then I searched for machinists who were using it to sharpen HSS metal lathe bits.  I didn't find many, but I did learn that many wood turners were using it to sharpen their HSS blades.  It was also highly regarded by many knife makers, who were using it to both grind the shapes of their blades and sharpen them.  So I decided to take a chance and buy one.  This review is going to discuss just the sander itself.  I hope to follow it up later with another one that will talk more about how well it works for sharpening HSS lathe bits in a home machine shop.
This sander normally sells for $50 but it was on sale for $40.  I used one of HF's easy-to-find 20%-off any single-item coupons to get it for $31.99.  I also purchased some Zirconia alumina belts for it because they were recommended by the knife makers.  Harbor Freight only carries 40 and 80 grit belts in packages of two for $2.99.  But you can easily find other vendors selling them in a much wider variety of abrasives and grits.  You can even buy a leather belt for stropping edges and cloth belts you can impregnate with polishing compounds.
Lots of problems
My sander came with a lot of problem that hadn't been mentioned by other owners so I started wondered if mine was typical or a rare lemon.  I'd bought the last one at the store so I couldn't exchange it for another one.  So I did more research and learned that some sanders come with lots of problems and others with few or none.  So, don't hesitate to exchange yours if it comes with some quality control issues you can't live with.
It was hard to put the belt cover on
It's pretty quick and easy to change sanding belts.  The belt cover is held in place by a single knob at the top and a couple of tabs at the bottom which fit into slots.  Mine came off easily but it was difficult to put it back on because it was hanging up in a couple of spots on the frame, which seems to be made of either die-cast aluminum or zinc alloy.  I found some thick paint runs in those places which I removed with a finishing file.  I also found a small burr around the inside edge of the plastic cover which I removed with sandpaper.  It's now much easier to put back on.
To change the belt you'll also need to remove a small transparent plastic cover over the top wheel that is held on with a Phillips head screw.  The screw just needs to be loosened and I'm already thinking about eliminating the need for a screwdriver by making a knob or button for it.
The belt tracking couldn't be adjusted properly
The motor and idler pulleys have an aggressive crown which helps the sanding belt stay on them.  One of the pulleys can be tilted with a knob to control the belt's tracking.  I was pleased to find the belt would stay on over its entire range of adjustment.  But I discovered I couldn't adjust it enough towards the motor to perfectly center it.  Adjustment in that direction was limited by a spring used to prevent vibration from turning the adjustment knob.  One of my photos will show you how I easily fixed it by adding a couple of small washers to push the adjustment lever more in the direction I needed it to go.