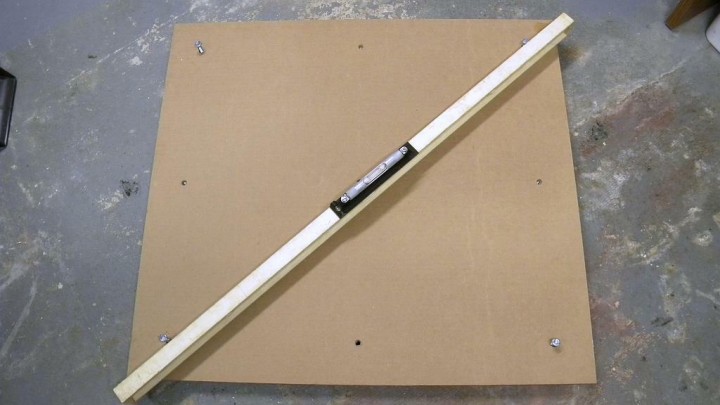 I needed a large and very flat work surface to build my CNC router table on. I didn't have a big enough workbench and I didn't want to take the time or spend the money to build one. And concrete floors aren't as flat as you might think, especially mine. So I used a 3/4-inch thick piece of MDF, some 3/8-inch tee nuts and bolts to build a temporary flat work surface on my basement floor. Here's how I did it:
I marked the locations for the tee nuts by drawing lines 3-inches from the edges of the MDF to leave room for the pieces of my router table. I also found the center of the board by drawing diagonal lines from the corners.
I installed 3/8-inch tee nuts at the corners of my drawn rectangle, at the center of each side, and at the center of the board. Then I put bolts in just the four corners and screwed them in about half-way.
The next step was to level it, which was easy. I placed a long construction level on the diagonal between two corners and adjusted the bolts in those corners until it was level (at least one of the other two bolts should not be touching the floor). Then I leveled the other diagonal by adjusting its corner bolts.
I double checked to make certain all the edges were level and made some small tweaks. When I was happy with the results I screwed in the other bolts until they just barely touched the floor. Their only purpose was to make certain the MDF didn't sag where it wasn't supported by the corner bolts. They may not even be necessary, especially if you're only going to use it for a short time.
A machinists level is more precise
I have an 8-inch Starrett machinist's level that I'd never really used before this. I put it on top of my construction level and was amazed at how much more precise it was. And when I put it directly on the MDF it showed small raised areas around the tee-nuts that I'd probably created by pounding them in with a hammer. They weren't enough to matter but I could have avoided them by hammering the nuts in just enough for their teeth to make contact with the MDF. Or I could have ground or filed their teeth off leaving only the flanges because there was probably enough friction in the holes to keep them from turning.
By the way, don't buy a traditional machinists level unless you can get one for a very good price like I did. Digital levels cost much less, they're at least as accurate and they can do more tricks. I'll say more about that when I talk about getting my router's rails parallel both horizontally and vertically.
MDF or Particle Board?
I was going to use particle board instead of MDF because it's stiffer, stronger, cheaper and the sheets I'd bought in the past always seemed to be very flat. I'd put a sheet of particle board in my shopping cart but when I went to have Home Depot cut it I noticed it had a very noticeable curve. An employee was waiting so I quickly decided to use MDF instead. MDF seemed to work well for this project but I'm not sure it was the best material to use. I'd like to know what you think.
Giving credit where it's due
I didn't come up with this idea myself. I learned it from this video which shows it being used to create a level surface for candle molds.