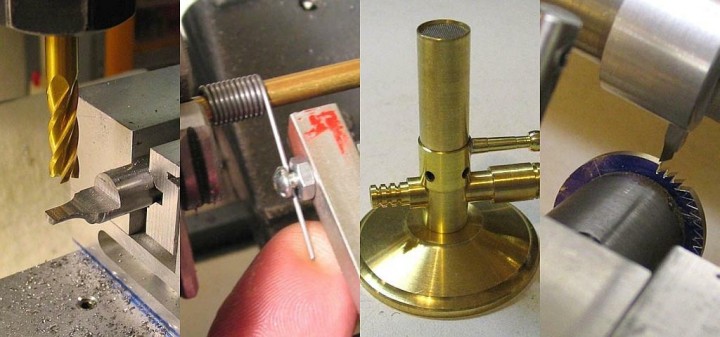 I recently added Dean William's web site to our list of "Featured Websites," which you can find on the right sidebar. It's a short, somewhat exclusive list, which should give you an idea of how impressed I am with it.
Dean is an excellent photographer and he's created quite a few photo essays and tutorials on a wide variety of topics. He repairs cameras and so he often has to make replacements for broken springs. The two tutorials that show how he does that are among the best I've ever seen about spring making. I also found his photo essay about making a miniature propane burner very interesting and educational because of some of the tooling it required him to make or modify.
You'll definitely want to visit Dean's web site if you're the owner of a Taig lathe, Taig mill or an Atlas 618 lathe because you'll find a lot of useful information, including modifications and accessories that you can make. Many of his projects could be resized or adapted for other machines. You'll learn how he makes a screwless vise, a rotary table, a filing rest, counterbores, a fly cutter, a dividing head, a slitting saw arbor and quite a few other projects.
There's also a great photo essay about the clock he's making along with pictures and videos of the small steam, Stirling and internal combustion engines he's made.