My wife and I have been feeding birds for a long time. We started with just one feeder that we didn't keep filled in the summer because we thought it was unnecessary. Then about five years ago we noticed that there seemed to be far fewer birds than there used to be, even though our neighborhood hasn't changed much. So we decided to try and help them by getting some more feeders and keeping them full year around. It seems to be working and we're getting more birds, and more kinds of birds, than we ever have.
Now we're going through about 40 pounds of Costco bird seed every two weeks. That doesn't include a considerable amount of smaller seed that we buy somewhere else for our two window feeders, which I often have to fill up daily.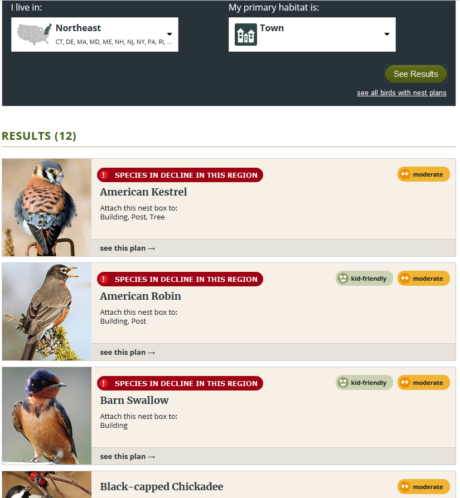 Winter is coming and it's going to give me some more time to make things. I already have a long list of projects but that doesn't stop me from looking for more. I'm particularly interested in things that I can make with my new Shapeoko CNC router. Bird houses are an obvious possibility and also roost boxes.
We've bought some bird houses that birds don't seem to want to use, at all, ever. So I've been doing research and looking for bird house designs that have been proven to work. Because if I'm going to make bird houses then I want to make houses that birds will use and I want to put them in the right places.
Here's some of what I've learned from the Massachusetts Audubon website about bird houses:
Birds prefer plain wooden boxes. Birds don't like brightly painted ones because they can attract predators. They prefer plain wood because they are familiar with it and it stays cooler then synthetic materials like plastic.
Many bird houses have perches, which are small dowels sticking out in front of the opening. Most birds don't want them because they make it easier for predators to get in. What they do want are predator guards, which are pretty easy to add.
Fall and winter are a good time to mount birdhouses because birds will have time to find them before they need them.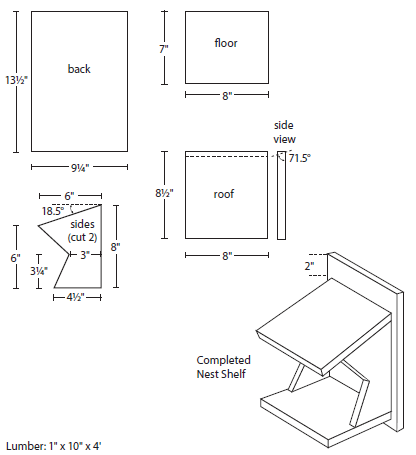 My conclusion from this is that most of the cute bird houses you see in stores are really designed to attract dollars, not birds.
One of the most credible and complete sources of information about bird houses that I've found is NestWatch, It's a website that belongs to the Cornell (University) Lab of Ornithology. You tell it what part of the country you live in and the type of habitat where you want to put a bird house. It will then provide you with a list of birds who like that habitat. More importantly for me, it provides plans for houses that the birds will like, along with detailed information about where to put them.
Even though our summers in western NY have been becoming warmer, our winters haven't. They seem like they are longer with fewer and shorter thaws. I've been having more trouble getting through them and birds might be having more trouble too. [My difficulties are mental and the birds face problems with finding warmth and food.] Roost boxes can help birds survive the winter and I'd never heard of them until very recently.
They are similar to bird houses but they are bigger so that a dozen or more birds can take shelter inside and share their body heat during cold winter nights. They have entrance holes that are near the bottom to help prevent heat loss, perches inside so that more birds can fit inside, thicker walls for better insulation, and dark roofs to absorb more heat from the sun. If you would like to learn more about about roost boxes then visit this excellent webpage, and if you would like to build one then take a look at the plans on this webpage.
One last thing. I've been wondering if there might be others in my area that would be interested in working together to acquire materials (scrap wood?), build birdhouses and roost boxes, and then mount them in parks and private places where they would be welcome. I've been making too many things by myself and I'd like to work on a fun project with others.