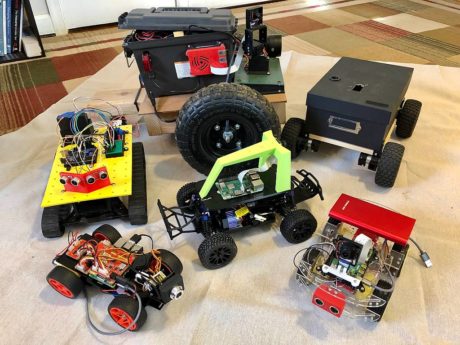 I've been interested in robotics for a long time and my desire to build a large outdoor rover was the reason I used to buy a mini-lathe about thirteen years ago. That led to a desire to learn how to machine metal, and that led to Machinistblog.com.
Then I decided to start a nonprofit makerspace about eight or nine years ago. That turned into a second full-time (and unpaid) job for five years which did not leave any time for this website, or for making anything.
I'm no longer involved with the makerspace and I like to keep busy, productive and learning. So this last winter I turned my attention back to robotics because it encompasses a lot of my interests and skills:
I've had a lifelong interest in electronics and I have a degree in electronic technology (which I've never used professionally).
I'm knowledgeable about computer hardware and I'm pretty certain I could have been a very good professional computer programmer if I'd wanted to go down that path. Unfortunately, my coding skills have become very old and rusty, but I'm working on them.
I like designing and building mechanical things and I have the tools and skills to make almost anything.
I've built a fairly large number of robotic rovers over the years and I've recently come up with some innovative ideas that I want to tell others about. As a result, you are going to start seeing some posts on MachinistBlog.com about robotics, computer vision and machine learning, single board computers like the Raspberry Pi, and computer programming.
Those topics don't fit the name of this blog or what I've written about in the past. But there's no point in spending time writing an article if almost no one is ever going to see it, which is what would happen if I created a brand-new website about robotics. MB is no longer highly ranked by Google like it once was, but it is still very visible on the Internet and it gets a lot of visitors. So what I post on here will get found and read.
To prepare for new posts I've done some overdue maintenance on MachinistBlog.com:
The site has been secured with HTTPS and you will now see a green padlock next to the URL in the address bar.
This was done with the help of Carol Rehnberg of 4SiteSolutions. I am very picky when hiring someone to work on my websites because I have not been impressed by most of the web designers and system admins that I've interviewed. I think Carol is very knowledgeable, has good judgment and is trustworthy.
Her rates are also very reasonable and she works fast. She charged me for less than an hour of work to fix my SSL problem even though she knew my budget was much higher. So I recommend that you contact her if you need some website maintenance done or a website designed.
I've started culling old posts that have not aged well or which were not very interesting in the first place.
Broken links are being fixed.
I've started to prepare for an overhaul of this site's design by looking at other websites for color and layout ideas, and to see if I can find ideas for making this site more usable and for improving its search engine rankings.