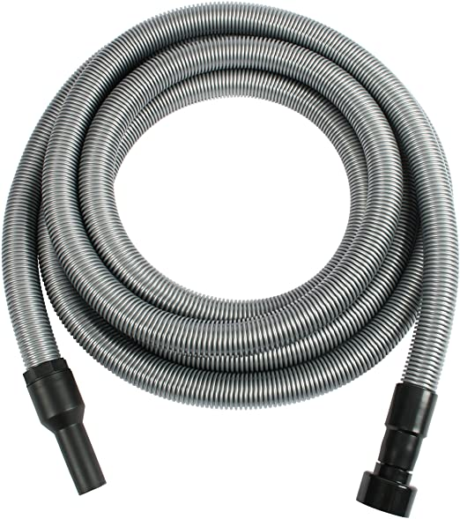 I just bought a 20-foot hose for my shop vacuum and I wish I'd done it decades ago. I never realized it before, but my shop vacuum is probably the tool that I spend the most time using and a longer hose makes it much easier to use.
The hoses and electrical cords that came with my shop vacuums aren't unreasonable short, but over the years I've spent many hours moving my shop vacuum from one electrical outlet to another in order to reach every corner of my workshop. I've also pulled the hose out of it or tipped the vacuum over innumerous times while trying to move it by pulling on the hose.
With the new hose, I can leave the vacuum in one location and still reach every corner of my garage workshop. It will also let me vacuum the interiors of two cars without having to first plug my shop vacuum into an extension cord and then move it around the cars four or five times.
Buying a shop vacuum hose can be difficult and a little risky because there are a variety of different hose diameters and the ends come in different sizes. I purchased a 20-foot Cen-Tec Systems 92707 Premium Shop Vacuum Extension Hose from Amazon for $34.86 and I'm very pleased with it. It is what I recommend you buy if your shop vacuum accessories fit a 1-1/4 inch diameter hose.
The intake end fits the intakes of my Shop-Vac brand vacuum, two Sears shop vacuums and a Ridgid shop vacuum, even though these vacs came with hoses ranging from 1-1/4 to 2 inches in diameter. The accessory end fits all the 1-1/4 inch extension tubes and accessories that I've acquired over the years.
I was surprised to find that the ends on this, and many other long hoses, screw on and off; and that there is wide variety different size ends and adapters that you can buy to fit your equipment. The problem is that the size descriptions for fittings and adapters are not always clear. Fittings also come in both US and metric sizes, and sometimes the sizes are close enough to work because of the taper. For example, a 32 mm inside diameter fits on the ends of my 1-1/4 inch hoses.
Hoses restrict air flow and so the the longer the hose is the less suction you'll get. This can be offset by using a larger diameter hose. My new hose has plenty of suction, but I do wish I'd thought of this and checked to see if I could have bought a 1-1/2 inch hose with the same size ends as this one. I'm sure they're available and they probably don't cost much more.
I'd never thought about buying a longer shop vacuum hose because I thought that shop vacuum accessories were/are obscenely overpriced. But I needed a long hose to reach the dust shoe of my new CNC router. This hose works great with it but I did have to design and 3D print an adapter for it. I will be sharing the .STL and Fusion 360 files for that in a later post.