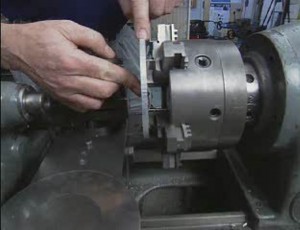 Here is a great resource for new machinists that almost seems like a secret because I have never seen it mentioned on any of the discussion groups or forums I belong to.
In 1995 the director of MIT's machine shop for the Artificial Intelligence Laboratory (Robotics Group) made ten videos, totaling more than seven hours, that teach students how to use machine tools. They show how to set up and do basic machining operations on a mill, lathe, drill press and other common shop equipment, but they do not include recommendations about cutting speeds or feed rates because students are expected to look up that information on their own.
The instructor generally does an excellent job, but even seven hours is not long enough for all the material he tries to cover and there are some shortcomings. For example, he could have shown a better technique for setting the height of a lathe bit, and the segment where he covers thread cutting on a lathe is almost useless. Yet I was surprised to find that he also includes, and does a good job, showing some more advanced techniques, like using double-side tape to hold parts too thin to be held in a milling vise or lathe chuck.
You can watch the videos online or save them to your computer in either WMV (Windows) or FLV format. [Note: The WMV files download as AVI files. Windows will complain about it but it will play them. You might want to rename them with the .wmv extension. I also suggest watching them at a video size of 200% if you are using Window's Media Player.]
I have added the times when many of the segments start but I have not had a chance to do that for all of the videos yet.
Machine Shop 1 – Machining Skills for Prototype Development (Length: 40:32)
Basic tour of the machine shop
Layout techniques (including transferring hole locations)
Basic tools: drill press, band saw, belt sander and grinder
Locating and drilling holes (includes using a center finder and deburring)
Tapping holes (including using a tap guide)
Machine Shop 2 – Machining Skills for Prototype Development (57:33)
Drilling holes
Special drills for plastics and hard or abrasive materials
Drill press limitations
Bandsaw
Suitable speeds, feeds and materials
Bandsaw setup
Using the drill press vise
Machine Shop 3 – Machining Skills for Prototype Development (30:02)
Good practice – clean up
Small belt sander configurations
Grinder operations and materials
Deburring and buffing
Finishing techniques
Machine Shop 4 – Milling Machine 1 (50:33)
Parts and controls of a Bridgeport Mill
Quill feed
Axis handfeeds (11:20) backlash explanation (12:15)
Gib locks (14:40)
Power feed (18:33)
Digital readouts (21:07)
Milling machine set-up – squaring/tramming the head square (22:37)
Squaring the vise – adjusting the vise so the stationary jaw is parallel to the bed (32:33)
Milling machine accessories and workholding techniques (41:15)
Machine Shop 5 – Milling Machine 2 (1:03:33)
Square and hex collet blocks – used to hold/clamp parts to machine features on 4 and 6 sides of a part respectively (1:02)
V-blocks (2:10)
Hold-down clamps – used to hold large or irregularly shaped parts (3:40)
Using angle blocks – used to hold materials to machine features not perpendicular on a part (6:15)
Drill press vise – using a vise within a vise (8:29)
Lathe chuck with vise – can be used to hold parts in the milling machine (11:11)
Double sided tape – can be used to securely hold a part without distortion (12:00)
Squaring high aspect ratio parts (16:02)
Right angle attachment (23:04)
Slitting saws – used to cut slots/slits/features in a part (33:21)
Rotary table – used to machine circular parts, grooves, circles, and segments (41:16). A dial indicator (43:20) or Coaxial indicator (47:25) can be used to square/center the table to the X & Y axes
5C collet indexer – used to hold collets and to position parts in up to 24 positions (52:42)
Machine Shop 6 – Milling Machine 3 (42:36)
Squaring a part – machining a piece of metal so all of the surfaces are flat, perpendicular and milled to the nominal size (1:00). Also covers using a fly-cutter (4:50) and deburring (8:40)
Squaring a plate (17:52)
Using the edgefinder (32:00)
Drilling holes with a mill (35:32)
Machine Shop 7 – Milling Machine 4 (23:07)
Reaming holes (1:00)
Boring holes with a boring Head (3:04) – also covers using Plug Gages to measure hole sizes (8:54)

Milling a slot (10:45)
Milling a shoulder, conventional and climb milling (17:11)
Cleaning the machine (21:05)
Machine Shop 8 – Lathe 1 (42:37)
The Lathe components
Turning tools (6:40)
Turning and facing (11:04)
Cutting off a part (22:45)
Drilling (32:20)
Machine Shop 9 – Lathe 2 (46:15)
Tapping
Boring (7:31)
Knurling with a bump knurler (15:30)
Cutting tapers with the vompound (22:21)
Turning shafts – using a live center (26:18)
Single point thread turning (31:03)
Machine Shop 10 – Lathe 3 (29:00)
Lathe chuck
Lathe arbors (6:42)
Turning between centers (15:40)
Face plate irregular shapes (19:00)
Face plate thin materials (21:13)