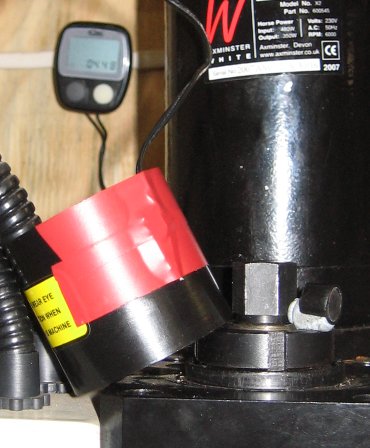 Here's an idea I haven't seen before. Adam made a very inexpensive tachometer for his variable speed X2 mini-mill using a cyclometer (bicycle speedometer). Almost any wired cyclometer will work and you should be able find one with a nice big display for about $15 or less. (You probably don't want to get a wireless cyclometer because they're more expensive, you'll have an extra battery to replace occasionally, and you might get erroneous readings caused by the receiver picking up electrical noise from your motor).
Someone left a comment with a link to a tutorial on Instructables with more details about making one of these. The author, Jose, explains that you basically just have to glue the magnet that comes with the cyclometer to your spindle and somehow mount the sensor within about a 1/4-inch of the magnet when it spins around.
The sensor sends a signal to the cyclometer every time the magnet goes by it. The cyclometer uses that information to calculate the bike's speed using the wheel's circumference, which you have to tell it. In this case though, we don't want to know speed, but RPM instead. Jose says to use 268 mm for the wheel circumference if the cyclometer displays the bike's speed in MPH, and 167 mm if it displays in KPH.
He says those numbers will display the RPM in hundreds, regardless of circumference of the object you mounted the magnet on. I don't why that is, even though I was once good enough at math to get an A in college calculus III. There's a chance I'll wake up in the middle of the night with the answer, or have a revelation while in the bathroom. But just in case I don't, I would appreciate it if you would leave a comment with the answer if you have a good "explanation for dummies."