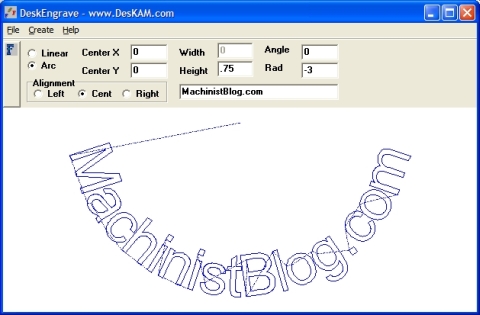 DeskEngrave is a free Windows program that makes it easy to add engraving to your parts if you have a CNC mill, router or similar machine. It will create text using any TrueType font installed on your PC, make it the height or width that you specify and put it on a straight line or wrapped around a radius. It will also create a DXF file or generate G-code that you can run directly on your machine.
You could also use it to make cut-out, raised or pocketed text, although you'll need the help of a CAM program. That's how I'm going to use it to make street numbers for my mailbox. You can also import its DXF files into a CAD program if you want to create multiple lines of text or add them to another design.
The program couldn't be much easier to install and use. It seems to work very well but there are some things you should know. The size of your text appears to be controlled only by the height and width boxes on the main screen. Even though you can change the font size on the font selection menu it doesn't seem to make any difference. I've also noticed that the size of the text is often significantly bigger than what I specified. So if size is critical you might want do to a test run and either adjust the size until you get what you want or rescale the DXF with a CAD or CAM program. You can specify only the height or width of your text, not both.
You also need to set the parameters before you try and run the G-code it generates, otherwise your controller program will probably complain about a feed rate of zero. Also, the "Precision" and "Dec. Places" settings are important. I don't know what the optimal settings are yet, but if you don't the increase the default settings your font will look like it's made entirely from straight lines instead of curves. Click on the help button for more information about those settings.
DeskEngrave is from Deskam.com, which appears to be part of DeskCNC, a maker of CNC software and controller boards. The program hasn't been updated since 2000 but this CNC newbie thinks it is still pretty useful.