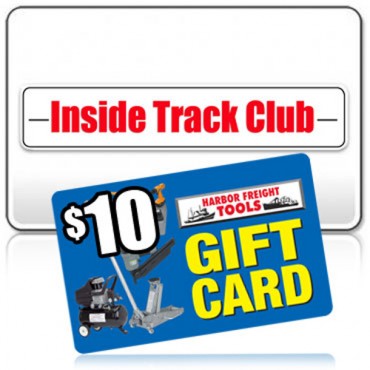 I no longer have a positive opinion of Harbor Freight Inside Track Club. Read the comments below to find out why. —
I waited a long time before joining the Harbor Freight Inside Track Club because I couldn't find out if it was worth $30 a year. Now I think I can answer that question and my short answer is that it is — IF you regularly buy a variety of tools from them. And even if you spend a modest amount you'll probably save enough to at least pay for the cost of your membership. And if you fall short it probably won't be by much. So, I don't think there's much risk in giving it a try. Especially if join now, while they're still giving away a $10 gift card with each new membership or renewal. They had the same offer at this time last year and it's why I joined. [Shipping is free if you purchase your membership on their web site.]
What You Get With Your Membership
You'll get at least 150 Inside Track Club coupons in the monthly retail flyer they mail to your house. You can also view and print them from the Harbor Freight web site.
More ITC coupons will be emailed to you at least once a week. I think there's also a daily coupon that you have to get from the Harbor Freight web site.
You'll get access to private member-only sales in the stores that are held every 2 or 3 months. They're for 2 hours and the ones at my nearby store have been on Sunday nights from 6-8 PM, which is right after it normally closes. Although, the last one was from 4-6 PM. I've been to at least 3 of them and I the only customer in the store except for one. And that one only had a couple of other customers. You'll get additional coupons for the private sales and they even put out free snacks and soft drinks. Sometimes you'll get an additional 10% off your entire purchase.
Some Examples
Here are some examples from the February 2012 retail flyer
12-speed Bench Top Drill Press #44836
Normally $170 and on sale for $150. ITC member price is $100.
1×30-inch Belt Sander #2485
Normally $50 and on sale for $45. ITC member price is $30.
36 pc SAE/Metric Hex Key Set #94725
Normally $15 and on sale for $10. ITC member price is $5
18-volt Magnesium Drill/Hammer Drill #65949
Normally $60 and on sale for $55. ITC member price is $40
29 pc Split Point Cobalt Drill Bit Set #36891
Normally $55 and it's NOT on sale in the retail flyer. ITC member price is $45
The Deals Aren't Always Great
I included the last two examples to show that you don't always save much by being an Inside Track Club member. Anyone could have used one of Harbor's Freight's easy-to-find 20%-off almost anything coupons to buy the Cobalt Drill Bit Set for about a dollar less than the ITC price. And they could have used a coupon to buy the drill for only about $4 more.
I keep an envelope full of the coupons in my car. I get at least one new one every week from our Sunday newspaper and they're in all kinds of magazines that I either subscribe to or can get from our library's free magazine exchange. I've seen them in Family Handyman, Field and Stream, Sports Illustrated, Boat US, Flying, Popular Science, Digital Machinist and many more. You can only use one coupon per trip and you can't use them to buy air compressors, tool chests, welders and one or two other things. They also can't be used with other coupons, including the Inside Track Club coupons.
By the way, there's always a coupon for a free item next to the 20%-off coupon. So now I have a large assortment of flashlights, tape measures, screwdriver sets, voltmeters and work gloves. I don't spend that much at Harbor Freight anymore because I have nearly everything I want and I'm running out of storage room in my workshop. But I get to their store fairly frequently because I'm often very near it.
And Finally
As I said before, I don't think you have much to lose by joining the club unless you just don't spend very much money at Harbor Freight, or you buy just some very specific things. I've saved quite a bit, although I also probably spent more than I might have by making some impulsive purchases because the savings were too good to pass up.