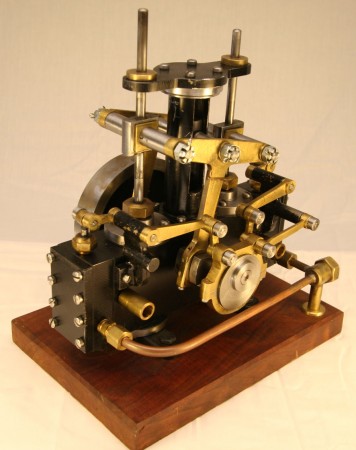 Pat Jorgensen recently posted a comment and I noticed that he had an interesting web site about steam engines. So I invited Pat to be a guest blogger and to tell us more about himself and his site, Jorgensen Steam – Bob Jorgensen's Steam Engines and Steam Engine Designs. — Rob
My story is that I am a professional engineer and run my own consulting firm in the Southeast USA. My Dad (Bob Jorgensen) did most of the maintenance at his family lumber mill until he retired. Since the lumber mill was originally powered by two large steam engines and associated boilers, Bob was intimately familiar with steam engines and such. Being of a creative mind, Bob started making simple small toy oscillating steam engine models when he retired, and progressed to the point 12 years later where he had created from scratch (34) model steam engines, (3) hot air engines, (2) steam-powered bicycles, and a Stanley Locombile type steam automobile.
What Bob did not leave was a description of how he designed and machined all those engines and things, so my task since Bob's death in 2006 has been to reverse engineer some of the engines that Bob built, and publish that information along with Bob Jorgensen's original photographs and hand-drawn vellum sketches.
This process got me curious about steam engine design in general, so I began researching steam engines, and have a collection of about 1,000 old steam engine engravings on Bob's website.
I also have gotten into steam engine animations, and can bring the engines of old back to life, like watching the actual engine run. I am currently designing a twin-cylinder steam launch engine, and hope to built that some day.
So what started out as building a simple web site to share some of Bob's photos has turned into quite a learning experience, and I continue to be surprised every day at the variety and complexity of the steam engines designed mostly in the 1800s, and the sophistication of the engineers who did this work. Luckily, there are a large number of public domain steam engine design books that can now be downloaded online in the US for free, and I have posted a list of about 100 of these titles on Bob's website. It is a fabulous story of technology from the past that changed and modernized our world in a huge way.