I am a big fan and admirer of Jan Ridders.  He is a talented and prolific designer of Stirling, flame-eater and internal combustion engines that are both beautiful to look at and fascinating to watch operate. Jan generously shares his plans for free and you can also frequently find him answering questions on the Yahoo Barstockengine discussion group, a group that I highly recommend if are interesting in building one of Jan's designs or some other engine that doesn't require castings.
I have not built one of his engines yet, but I have been gathering the materials needed to build his Coffee Cup Stirling and I have made some practice parts.  That engine, like most of Jan's designs, has some features that almost make it a work of art, like the spoked flywheel, the finned power cylinder and the connecting rods with decorative holes. It also uses bearings and a lot of brass.  These features require extra time and skill to make and they increase the cost of the materials and effort needed to obtain them.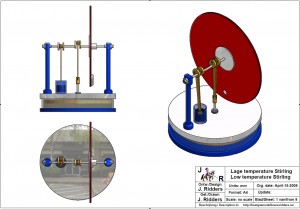 Jan just designed a new easier-to-build version of that engine.  Instead of a spoked flywheel it uses two CDs mounted on an easy-to-make hub.  Balancing the engine should be easier because a small weight is added to the flywheel instead of drilling small holes in it and slowly enlarging them as needed.  Silicon sealant is used to attach the top and bottom plates of the displacer cylinder instead of six machined brass spacers that need to be tapped and then used with screws that are countersunk.  The new engine also does not use any ball bearings.  Instead it uses "point bearings" that do not look hard to make.
A glass tube is used for the power cylinder and the piston is made of graphite.  Graphite is also used to make bearings for the crankshaft.  I am sure that Jan chose these materials to minimize friction, which is absolutely critical when building a low temperature differential Stirling engine.  I was initially concerned that it might be difficult to obtain them in the right sizes and then fabricate the parts, but it doesn't look like that is going to be a problem. I easily found numerous sources on the Internet and learned that it is apparently not that hard to cut a piece of glass tubing to length, even if it is made of borosilicate or Pyrex.  Using glass is also an inexpensive way to make a cylinder. The working cylinder for the Coffee Cup Stirling is made from a piece of 30mm (1.2-inch) diameter brass, which could be costly to buy.
I would say that the biggest obstacle to building one of Jan's LTD Stirlings might be finding an affordable large-diameter transparent tube for making the displacement cylinder.  That is what has been holding up construction of my engine because you need to know the dimensions of the tube in order to make the top and bottom cylinder plates.  Jan suggests looking for a suitable piece of packaging to use.  I did find a wholesale-club size package of Slim-Jim snacks that was almost the perfect size but I am reluctant to use it because it looks cheap and would detract from the appearance of the engine.  I know others have had the same problem and there was a recent discussion about it on the Barstockengine group.  I plan to pass along some of the suggestions that were made at another time.
The plans are written in Dutch and English.  The units are metric but I don't think you are going to have any problems converting them to English units and using standard size metal stock if that is your preference.
Jan usually asks that you to send him an email request if you would like a set of his plans but he has kindly given me permission to make them available for download here (PDF, 2.9 MB).  As I said, Jan gives his plans away for free, but I do know that he'll accept a small donation via PayPal "only if you are very satisfied and feel called upon."
Related Links
Jan Ridders' Web Site (in Dutch & English)