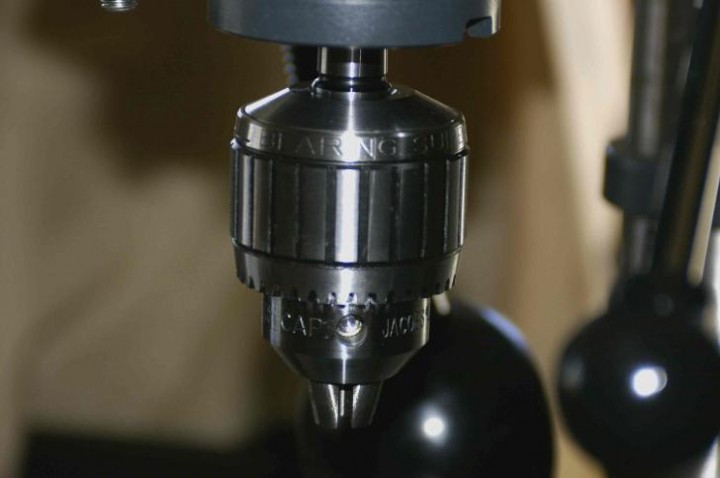 Properly installing a drill chuck on your drill press requires you to pay attention to a few simple details. Done well, your chuck will be accurate and will stay put until you remove it.
Drill presses and many other machine tools use Morse tapers to enable the user to attach a wide variety of attachments to the machine via an arbor having a Morse taper to fit the machine and an opposing taper to fit the accessory to be attached. For a drill chuck this opposing taper is typically a Jacobs taper. An accurate arbor is very important so buy one you can trust; Albrecht and Jacobs make good ones.
Fitting a male arbor taper into a matching female taper produces interference-fit joints that are very tight and accurate. Once their contact surfaces are brought into intimate contact they will lock as long as their surfaces are burr-free and clean. Since these tapers are ground to a high degree of precision they are also self-aligning. When installed correctly the arbor will go in straight and stay there unless someone beats them out of alignment with multiple blows from a hammer during or after installation.
To install an arbor:
1. Wipe the arbor and socket with a clean rag. Don't bother with solvents for now – we don't want a lock yet.
2. Inspect the socket and arbor and completely remove any burrs found with a diamond coated tool or fine file. An Eze-Lap diamond hook sharpener works really well for removing burrs from a chuck taper. Note that even new chucks and arbors can have burrs so don't assume its okay because it is new.
If you gently spin the arbor in the socket any burrs will usually produce a bright line that is clearly seen. If the bright line is on the arbor then the burr is on the chuck taper, and vice-versa. Work on that burr until it is gone.
Smoothing a burr so the defect lies beneath the surface of the taper will not prevent a good fit as long the rest of the taper is untouched.
3. Once all the burrs are gone use OOO steel wool or a Scotchbrite pad and lightly go over the taper and arbor to remove any invisible dirt or superficial oxidation; do this even with new arbors and chucks.
4. Now use lacquer thinner or acetone on a lint-free rag (clean old T-shirts work) and clean the socket and male arbor surfaces; after this do not touch these surfaces with your hands. Rubbing alcohol contains oil and won't work well on tapers.
5. Retract the jaws of the chuck into the body and place the nose of the chuck on a solid, clean, flat surface like an anvil or smooth level concrete, not your wooden work bench. A sheet of paper laid down first will prevent marring the nose of the chuck.
6. Slide the male arbor end into the chuck's socket with a gentle twisting motion and it will self-align. You can cock an arbor when pushing it straight in – trust me.
7. Position a piece of wood over the end of the arbor and use a steel hammer to deliver a single firm tap straight down onto the end of the arbor. You do not need to hit it with an overhand, powerful blow – just a firm tap, please. With the chuck sitting on an unyielding surface this simple tap is all that is necessary to seat the arbor. Try to resist hitting it more than once. If the arbor and socket were clean and burr-free that arbor will stay in there until you take it out, and it will run true.
To install the chuck into the drill press you must do the same prep work as above. Move the table out of the way so you can work. Slide the chuck (jaws still retracted) and arbor into the socket with a gentle twist and, protecting the nose of the chuck with a piece of wood, deliver a single firm tap to the nose of the chuck.
Your chuck is now installed and should stay there until you need to remove it. When you do need to remove it, it will come out easily.
Now let's go make some chips!
Mikey
September 2010