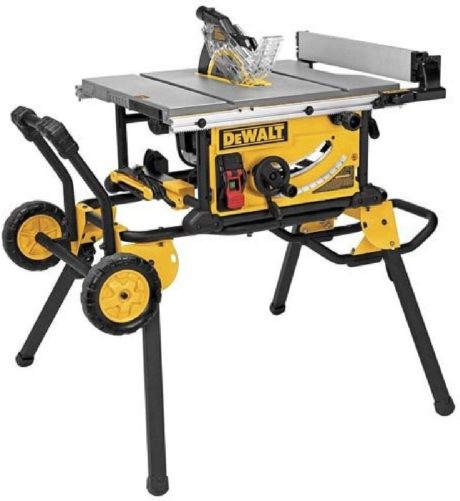 I'm adding drawers to a workbench and the original plan was to cut all the wood with my circular saw, chop saw and CNC router. The carcass I made with those tools came out well, but it would have taken far less time and been much easier to make with a table saw. I still have to make the drawer boxes and they are going to require many more parts that have to be precisely cut and equally sized. To make a long story short, I bought a table saw to make them.
It's a $600 Dewalt DWE7491RS "15 Amp Corded 10 in. Job Site Table Saw with Rolling Stand." I read many reviews on Amazon before buying it, but I purchased it from Home Depot so it would be easier to return if there was a problem with it or if I didn't like it. I had to order one because they are very hard to find in a Home Depot or Lowe's store right now. I couldn't look at one first, but I did examine a smaller and similar Dewalt table saw.
I've owned a several other table saws and I believe that the fence is the most important part. If you don't like the fence, then you won't like using the saw. So here's what I look for:
You should never have to worry about the fence staying parallel to the blade.
You should be able to move the fence easily and be able to easily make small and precise adjustments.
It should be sturdy and durable.
The fence rails should be long enough to let you make rip cuts that are wide enough for your needs.
Dewalt seems to have the highest rated portable table saws on Amazon, by a large margin. The saw I bought has a 4.8 rating and more than 2,700 reviews. Their fences seem to be one of the biggest reasons why people like their table saws.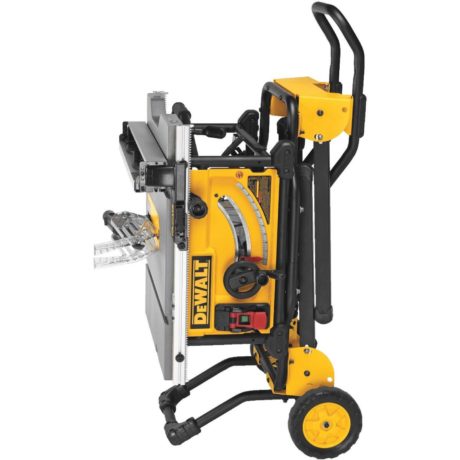 Dewalt uses rack and pinion gears at both ends of the fence. It's a method that I have not seen other table saws use. Most fences just slide along a front rail and are held in place by a lever or knob activated clamp.
I have a very small workshop and I'm a very infrequent woodworker. So I wanted a saw that wouldn't take up much space. I strongly considered buying a Dewalt 8-1/2 inch table saw that costs $399 ($200 less). It's small, but still too big to store on a shelf and I wouldn't want to store or use it on the floor. So I would have to build a nice stand for it that would probably cost at least $100 for the wood and casters. It would also take time to build that I would rather use for other projects.
That made me more willing to spend $200 more for a bigger and more powerful saw that also came with a nice stand. The deal was sealed when I found out that the stand folds so that both it and the saw take up very little storage space.
The saw also has a some other features that I like. Reviewers say the riving knives can be very quickly and easily removed and reinstalled. You can also attach a shop vac to it.
This model, the Dewalt DWE7491RS, can make rip cuts up to 32-1/2-inches wide and it has a 3-year warranty.