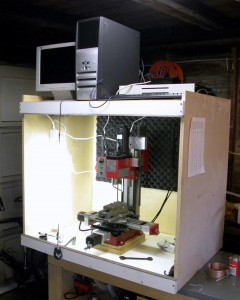 I unexpectedly bought a CNC mini-mill a couple of weeks ago and since then I've been trying to learn about CAD and CAM software. It came with the very popular Mach 3 controller program and that will be enough to get me started cutting metal. But my understanding is that sooner or later I'm going to need CAD/CAM software if I want to design a part on my computer and then make it on the mill.
So I've been trying to find the best software in my price range. So far all I know is that there are a lot of similarities between choosing software and finding a compatible girlfriend. There are lots of choices available, so you have to visit a lot of web sites to find software that catches your attention in a special way. Then you have to download the demo version and see if you enjoy spending time with it. You also have to try to find out if the software has the features and capabilities you'll need to develop a successful long-term relationship. Unfortunately, serious issues may not become apparent until after you have invested a considerable amount of time, effort and money into your relationship.
I sought suggestions on CNCZone.com for software that would meet the following requirements:
I'm just a hobbyist, so it has to be affordable. $200 is probably the most that I might be willing to spend and I would prefer to pay $100 or less. Free is good, and I know that there is free software available. However, I don't want to spend a lot of time learning how to use a free or cheap program just to save a few bucks and then find out it won't do what I need it to do.
It has to run on Windows. I think Linux is great but I'm not willing to switch yet.
Free and easy-to-understand tutorials have to be readily available for it. This is really important. I've played around with CAD software in the past and they all seem to have a long learning curve. That doesn't bother me, but it does bother me when there aren't any good tutorials for beginners or you have to pay for them.
I was given a lot of good suggestions. Unfortunately there was no consensus, so it looks like I'll be trying software demos for a while.
By the way, I don't need to get CAD/CAM software right away. But there's a fairly inexpensive AutoCAD course I can sign up for in a couple of weeks that might be helpful. However, I know I won't be able to afford my own copy of AutoCAD when the class ends, and I don't know if I will be able to transfer the knowledge I'll learn to another CAD program. What do you think