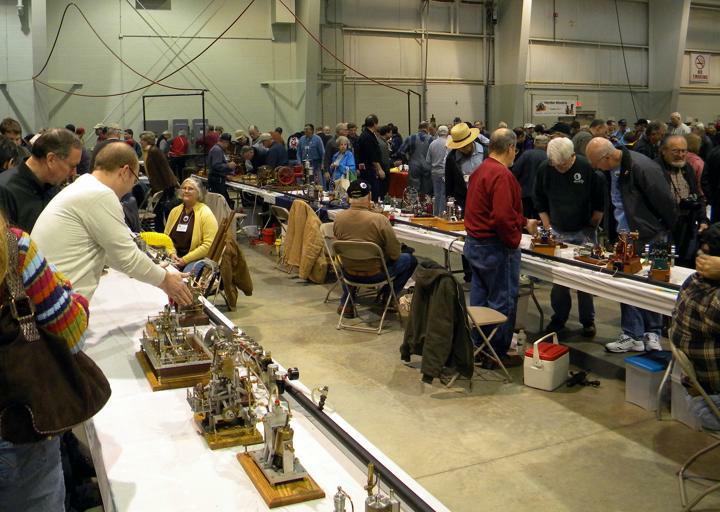 We're about a month away from the 15th annual "Cabin Fever" Model Engineering Expo in York, PA. I went last year and wrote an article about it. It was was my first model engineering show and I really enjoyed it. So I'm going back again next month.
"Cabin Fever" is one of the oldest and largest shows of its kind, and certainly the largest in the Northeast. I think you would be welcome to exhibit any kind of model at the show but most are made from metal. So it's a bit of heaven if you're interested in machining and metalworking.
What you'll find
Model engines of every kind, which you will often be able to see in operation. There will be steam engines, Stirling engines, hit & miss engines, and more of all kinds and sizes. Compressed air is provided for steam engines that will run on it and internal combustion engines are allowed to run on small amounts of clean-burning lantern fuel.
Model trains, including "live steam" railroads.
Model steam boats and submarines operating in a huge indoor tank.
Other models such as cars, airplanes, guns and who knows what else.
Over 100 vendors selling all kinds of new and used tools, machines, materials, parts, plans, kits, books, and much more.
Seminars, demonstrations and more
Some suggestions if you go
Exhibit something, even if you only have one thing to show. Anyone can exhibit and it's free with admission. You'll get table space, a chair to sit in and some other perks. Admission is $10 for the entire weekend.
There's lots of things to do in the area if you have family members who don't want to attend the show. You can tour the Harley Davidson assembly plant in York on Friday. You'll also be in the middle of Pennsylvania's Amish country and nearby Lancaster has a huge amount of shopping and other attractions.
There's a concession stand at the arena that was better than many others I've experienced, but from noon on it was very hard to find a place to sit and eat. You may want to plan ahead and bring a lunch to eat in your car or go to a nearby restaurant.
Try to avoid the traffic and stop lights of Harrisburg at rush hour on Friday night, which is what my GPS led me into.
How about dinner after the show on Saturday?
The only thing I didn't enjoy last year was eating dinner by myself after the show on Saturday. So I'd love it if you'd either join me or let me join your group. I'll be easy to recognize. I'll be one of the tallest people there and I look something like this, only a little grayer.