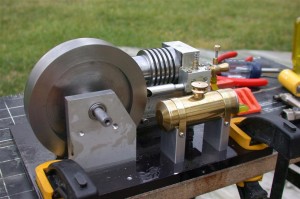 Would you like free plans for a gas-powered 4-cycle engine that is a proven and easy-to-build design?
Joe Webster designed this engine to be quick, inexpensive and easy to build.  It doesn't have any parts with super-critical dimensions and you don't need a rotary table or other expensive tooling to construct it. The plans are well drawn and include two pages of construction notes.
This is what is known as a "bar stock" engine, which means it does not use any castings. It uses flat and round metal stock that can be purchased from almost any metal or machine shop supplier  It is not a big engine so the cost of the metal should be modest.  Joe suggests making the 3.75-inch diameter flywheel out of an iron dumbbell purchased from Wal-Mart to save money.
The engine uses some components that need to be purchased, like a couple of gears, a spark plug, points, condenser, ignition coil and piston rings. The part numbers and vendors are listed on the plans and they are all readily available, I've checked.  Joe recommends you also buy and use a carburetor for a radio-controlled car engine, although he does include drawings so you can make one if you want.
I could say more but the engine's web page is a better place to get more details.  You can download the plans there, see pictures, watch a video and hear it run.  Joe explains his reasoning behind the design and lists both the engine's pros and cons.  You can also find out about some of the engines that others have been built from these plans.
Webster Engine Works also has plans for another engine, although these cost $12.  The plans are for the Next Generation EZE – a .056 cubic-inch quick-building model airplane engine made from bar stock.
Related Links:
Home Model Engine Machinist: Making the Cylinder – Making the Piston – Search the site for 'Webster Engine' for more threads