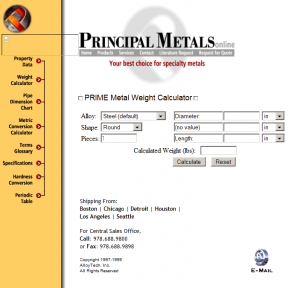 Here are a couple of calculators that you can use to determine the weight of a piece of metal.  You just have to tell them the kind of metal, its shape (round, square, tube, plate, etc.) and its dimensions.  The first is a downloadable calculator that will run on a PC.  The second is an online calculator you can access from a web browser.  Both calculators will accept dimensions in either English or Metric units, but for some strange reason they only give the results in pounds.
I used one of them to see if I paid a good price for some of the cutoffs I bought yesterday at a surplus metal store.  I paid $8/pound for a piece of brass that was 1.625-inches in diameter and 12.5-inches long.  I determined by using one of the calculators that Enco charges $6.02/pound.  But I would have had to purchase a 6-foot long piece for $270.89, even though I need a piece less than 2-inches long for the project I'm making.
Yesterday I thought that was an acceptable price, but today I am kicking myself really hard.  I just checked Smallparts.com and discovered that I could have bought a slightly smaller piece (1.5 x 12-inches) for $17.76, which works out to $2.17/pound.  Ouch, ouch, ouch.