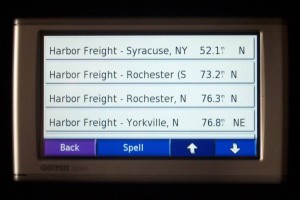 Have you always wanted to visit a Harbor Freight store but don't have one near your home?  This "Points of Interest" (POI) file contains 274 store locations and can be uploaded to Garmin, Tom-Tom and some other GPS units.  Then while you're traveling you'll know if you are right around the corner from one.  While I'm on the road I often like to visit stores and restaurants I've heard about but don't have anywhere near my home.
My wife and I just spent two weeks driving around the American Southwest.  I thought it might be a good idea to take a GPS with us so I purchased a factory refurbished Garmin Nüvi 660 which we have been very pleased with.  Of course I didn't find out about POI-factory.com and POIs until after the trip.  They have hundreds of free POI files that can be downloaded and easily installed on the Nüvi and other brands.  Take a look and I bet you'll find some that you'd want to install on your GPS.
The website has instructions and help with installing them.  .  The first step was to install the free Garmin POI loader on my PC.  It takes the POI files and converts them to the proper format and uploads them to the GPS.  Then I just had to download the POI files I wanted and put them in a folder (you'll have to register first but it's quick and easy), connect my GPS to my computer with cable it came with, and start the POI loader.  It will ask a few simple questions, like the location of the folder is with the POI files, and then load them on the Nüvi in less than a minute.
Now you know why I haven't added much to the blog in the last month.  We were on vacation for two weeks, the week before we left I ran around like an idiot getting ready for the trip and in the week since our return I've been working like crazy trying to get caught up with yard work and some other chores around the house.  I'm hoping I might be able to find some time to spend in my workshop tomorrow.