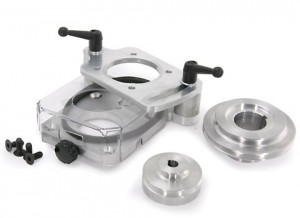 LittleMachineShop.com has the Ron Steele belt drive conversion kit for the mini-mill on sale for just one week, until Tuesday, September 1, 2009.  It's $109.95, which is $20 (15%) off the normal price of $129.95.
I'm going to order one.  It is one of the most popular modifications for the X2 mini-mill, I was going to eventually buy it anyways, and I've never seen it on sale before.
Advantages
The kit eliminates a couple of drive gears, including a plastic one that can break easily if your cutter jams.
It increases your maximum spindle speed from about 2500 rpm to about 4300 rpm, which is important if you use very small end mills or drills.
Your mill will run much quieter.
The conversion kit is very easy to install and it will probably take only about 25 minutes.
But don't take my word for it.  Richard Bradshaw made an excellent 8-minute YouTube video that will show you how quick and easy it is to install the kit, and how much faster and quieter your mill will run.