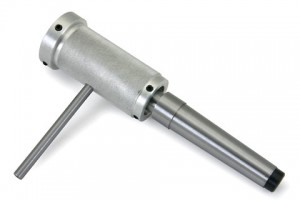 This looks like a good deal. Littlemachineshop.com has a die-holder for the mini-lathe on sale for $18.95 through Tuesday, May 19th.  The regular price is $32.95.
I have been planning on making one of these for almost a year but I never got around to it.  Two weekends ago I really needed one so I made a quick substitute that was just good enough to get the job done.  I will be ordering one of these tomorrow.  It looks like a nice one and at this price I don't think it is worth taking the time to make your own.
If you are not familiar with this tool, a die holder is used on a lathe, drill press or a mill to ensure that a die gets started straight and centered on the work piece you are threading.  This one is held in the tailstock, although some are designed to be held in a drill chuck.