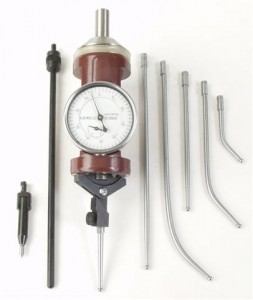 LittleMachineShop.com has a coaxial centering indicator on sale through Tuesday, October 27, 2009. It's on sale for $49.95, which is 29% off the normal price of $69.95.
Don't tell my wife, but I ordered one; even though it seems like we've been bleeding money lately. I'm a little nervous about its quality because it's probably a Chinese import; but the price is very good, I've always wanted to play with one, and it should make centering my new rotary table a lot quicker and easier. If it's well made then I will have gotten a great bargain. And if it isn't, then I'll have something to write a review about.
I found a couple of videos in case you're not familiar with this kind of indicator. The first one is from LMS and it shows a coaxial indicator being used to center parts under a mill. They can also be used with lathes and this second video shows one being used to check a mini-lathe's tailstock alignment.
One last thing. I've decided that I need to either get the forum fired up or get rid of it. So I've been posting most of the good deals I find out about there. But if I find a really good deal, like I think this one might be, then it will probably show up on the front page of the blog.