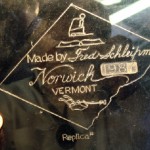 I found something very unusual on a web site about machining and metalworking — a people story.  You see, web sites about this hobby are almost always about tools, techniques, workshops and projects.  You rarely learn about the people who do metalworking, which is something that I always enjoy.  So I was very surprised and pleased when I came across an article about Fred Schleipman on Frank Hoose's web site, Mini-Lathe.com.  It's not exactly a biography but I found it interesting.  Here's the link:
Featured Machinist: Fred Schleipman
By the way, in the section about Porter Garden Telescopes there's a link to Telescopes of Vermont and on that page is a short video that I found particularly interesting.