I spend about half of my time writing CAM software, and the other half doing product development for a bunch of companies. Usually my prototypes are one-off, sometimes I have to make lots of them. I happen to be in the middle of just such a project- I need to make about 50 of these: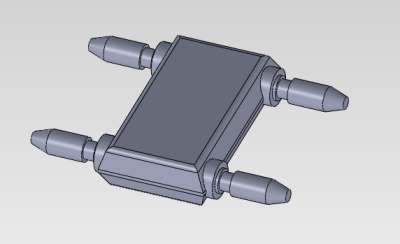 Luckily, they're not very big, only the size of a dime. I tried using our CNC mill to machine one but it quickly became apparent that it was going to take too much time like that since it would have to be machined from two sides and with a good finish. I decided to turn to one of my favorite techniques- casting the parts.
Other people have written very extensively about casting techniques, my favorite is at http://lcamtuf.coredump.cx/guerrilla_cnc1.shtml . For the time impaired, the basic idea is that you make a mold of the part that you would like to make and fill it with a two-part resin to make the finished product. The mold can either be a soft silicone, as the site above shows, or a hard mold that you machine directly in a CNC mill. For small parts like this one I like to save a step and directly machine a hard mold. Since I only need to make 50 pieces, I decided to machine them from Delrin- a very strong plastic that happens to be relatively non-stick. The non-stick part ends up being a huge benefit here to make it easier to remove the finished parts.
Making the Molds
The fist step was to reopen my part in SolidWorks and design a mold to produce the parts. Since the part is symmetrical, I only need to make half of the mold and machine them in multiples of two.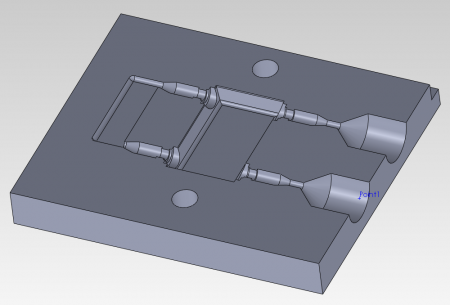 The mold shows a lot more stuff than the original part that are worth an explanation. A big part of designing a mold, whether it's for casting like this one, or injection molding for high-volume production is making sure you provide a way for the material to flow freely into the mold. This includes providing a way for any air in the mold to be pushed out. The flow of resin will be something like this:
The resin is pushed in from the left and eventually overflows out through to the right, hopefully taking most of the air with it. Any air left in the mold will create a void in the finished part. Note that without the bottom-most runner, there would be no way to get resin into the bottom legs of the part since air would be trapped in there. There are certainly better ways to approach this part but this was easy and I was in a hurry to get started.
Machining the Molds
Machining these molds is easy. I exported an STL file from SolidWorks into MeshCAM to make a toolpath. Some users have found the SolidWorks STL export options confusing so I've put up a SolidWorks CAM page to show that process in more detail. Continue reading Casting Lots of Small Parts