This is the last article in Mikey's series about grinding lathe tool bits.  In part 1 he discussed his experiences with grinding bits, why he uses a belt sander instead of a bench grinder and introduced some terminology about tool bit shapes and angles. In part 2 he covered tip geometry and tool shapes in more depth.  Here he describes the actual process of grinding a tool bit.

Grinding a tool
ALWAYS wear eye protection, hearing protection, a dust mask and leather gloves when grinding. No tool is worth sacrificing your body parts.
Remember, no angle works in isolation
Think about what you need with regard to shape, strength, tip access, and the type of material(s) you will use the tool on. Choose your relief and side rake angles and when you are clear on what you intend … just grind it that way. This thought process is illustrated below.
Let's grind a general purpose right hand tool from a 3/8" HSS blank that should work with steel, aluminum, plastics and stainless. It is not optimized for any of these materials but should work fairly well with all of them. You can rough, face and finish by varying the lead angle of the tool. By choosing a general shape for multiple materials we need to think about the compromises these choices force on us:
The overall shape will be half-way between a rougher and a facing tool. To allow this tool to face into a shoulder we'll give it an end cutting edge angle of 80- 85 degrees. This more acute angle reduces tip strength a little but is of no concern on a small lathe even when roughing, though it does add to the equation.
To reduce cutting forces we will use a conservative side relief angle of 15 degrees and a more aggressive end relief angle of 15 degrees; both changes will improve facing, finishing and edge penetration. In addition to turning you can also use this tool for chamfering with the side and end.
Since I am losing some strength by using greater angles for side and end relief as well as from that more acute end cutting edge angle, I'll try to conserve some strength and compromise chip clearance a little by keeping the side rake conservative at 15 degrees. Back rake is at the high end of the standard range at 15 degrees to further assist the side rake in improving chip clearance; it also boosts finishing potential.
We'll use a nose radius between 1/64" and 1/32" to allow a deep cut while still giving a fair finish.
A LH tool is the same except the shape is reversed.
As you can see, multi-purpose tools require some compromise. I have given more emphasis to tip strength because we will also be using this tool for roughing, which creates large cutting loads in harder materials. We'll discuss this further in the End Notes.
General Advice:
If you are new at this I suggest practicing on mild steel key stock from the hardware store, not HSS. It grinds easily and is cheap. Just cut it to the same size as your HSS blanks so you get a feel for handling a bit.
Let the belt cut; you want to use only moderate pressure – enough to keep the belt cutting continuously – and keep the tool moving back and forth across the entire width of the belt. The steel will show you some color to indicate how hot it is getting. HSS can get into the low red range without compromising the steel but if I see anything beyond dark straw I know I am using the wrong grit, my belt is worn or I'm putting too much pressure on the tool when grinding. It the tool gets too hot to hold let it air cool or just set it down on a brick – it cools fast.
The usual sequence I follow when grinding a tool is to cut the side first, then the end, followed by the top. This isn't written in stone. You can grind the top face first to ensure the top and side cutting edges meet exactly at the edge as they should – think about it.
Seen below is my grinding setup. It is a ½ HP Craftsman 2" X 42" belt sander with a custom steel table settable to precise angles. The platen is a 2"W X 9" L X 1/4" thick piece of O-1 ground steel to which a Pyroceram liner is epoxied; it is dead flat after years of frequent hard use. It is equipped with a 24 grit Aluminum Oxide belt, soon to be coated with a wax stick lubricant. This belt cuts very fast and very cool when using only light to moderate pressure applied toward the belt and I highly recommend it for shaping. Just ease up on the pressure as you near the end of the grind to eliminate coarse grind marks. After shaping, you can change to progressively finer grits and produce a near mirror finish if you choose.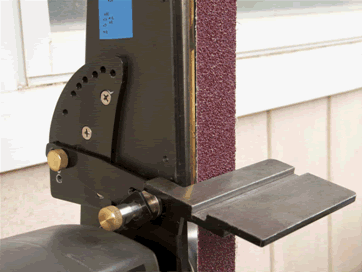 The table is set to 15 degrees to cut the side relief angle, the vertical angle under the side edge. The side cutting edge angle is determined by the angle with which you present the tool to the belt; as you grind it you are grinding the side relief angle at the same time. For this tool the side cutting edge angle is approximated so that 60% of the side is ground off when I am done. If I want a rougher I grind 40% off the side, 70% for a facer and 80% for a finisher. Continue reading Grinding Lathe Tools on a Belt Sander – Part 3